Los Angeles Wrongful Termination Attorney
This is personal for us. We know the difference between right and wrong and have based our entire careers on reminding others of that distinction.
Top Los Angeles Wrongful Termination Attorneys
Has your employer terminated your employment recently? Losing a job can be a traumatic experience for anyone. There are numerous reasons why your Los Angeles employer may have terminated your employment, but if the underlying reasons constitute wrongful termination, it is advisable to seek legal counsel from a trusted and experienced Los Angeles wrongful termination attorney right away.
Welcome to Miracle Mile Law Group. We are a Los Angeles employment law firm representing all types of employment law cases for employees. If you have been terminated illegally, you can sue your employer to get compensated for damages. Our Los Angeles-based employment attorneys specializing in wrongful termination cases in Los Angeles can best advise you on whether your termination was illegal and whether you have a case.
Legally, 'wrongful termination' can imply any situation wherein you have been fired or discharged in a manner that directly violates your employee rights. To establish that your dismissal qualifies as wrongful termination, our Los Angeles wrongful termination lawyers work to establish that at least one employment law was violated in the process. In Los Angeles, California law protects employees against wrongful termination.
It generally covers three types of violations – breach of a contract, violation of a public policy, or a violation of a statute. You can contact our Los Angeles wrongful termination lawyers to find out which of these violations may have occurred in your case. With extensive experience and knowledge of California employment law, our wrongful termination lawyers in Los Angeles can provide you with the best legal representation you require right now.
If you or a loved one has experienced wrongful termination by any Los Angeles employer, call our office today for a free and confidential consultation regarding your case. (888) 244-0706. 
How Our Los Angeles Wrongful Termination Lawyers Can Help You?
As far as employment matters are concerned, California is an 'at-will' state. So, many people simply assume that employers have a right to fire workers at any time for any reason they see fit, or no reason at all. Yes, employers in Los Angeles are well within their right to dismiss employees at any point in time, but the reason for dismissal cannot be illegal.
Our Los Angeles wrongful termination attorneys can help determine whether any exceptions to employment-at-will have been made in your case. Some of the common examples of such exceptions include:
You were terminated in retaliation for reporting illegal behavior or activity in the workplace
You were fired from your Los Angeles job because you became a whistleblower and exposed your employer's breach of a legislation
Your termination was in violation of the current (or implied) employment contract
Your employment was terminated on the grounds of discrimination
In case you have entered into a written employment contract with your Los Angeles employer, you are not an at-will employee. For instance, your job offer letter may state that you are being employed for a period of two years. In case your employer terminates your employment contract before this timeframe, you may have a case. The court may be able to enforce the terms of the contract.
Wrongful termination claims on the basis of implied contracts can be challenging to prove but our Los Angeles wrongful termination attorneys will not settle for anything less than what you deserve.
While assessing your wrongful termination case, our wrongful termination attorneys in Los Angeles will factor in all important criteria, including the following:
Whether the employer gave any reason for dismissal
The total duration of your employment
Your performance on the job, based on the company records
Frequency of job promotions and positive performance reviews
Any assurances of continued employment
Employer's policies and procedures concerning employee termination and related matters
Whether you were assured of permanent or long-term employment when you were recruited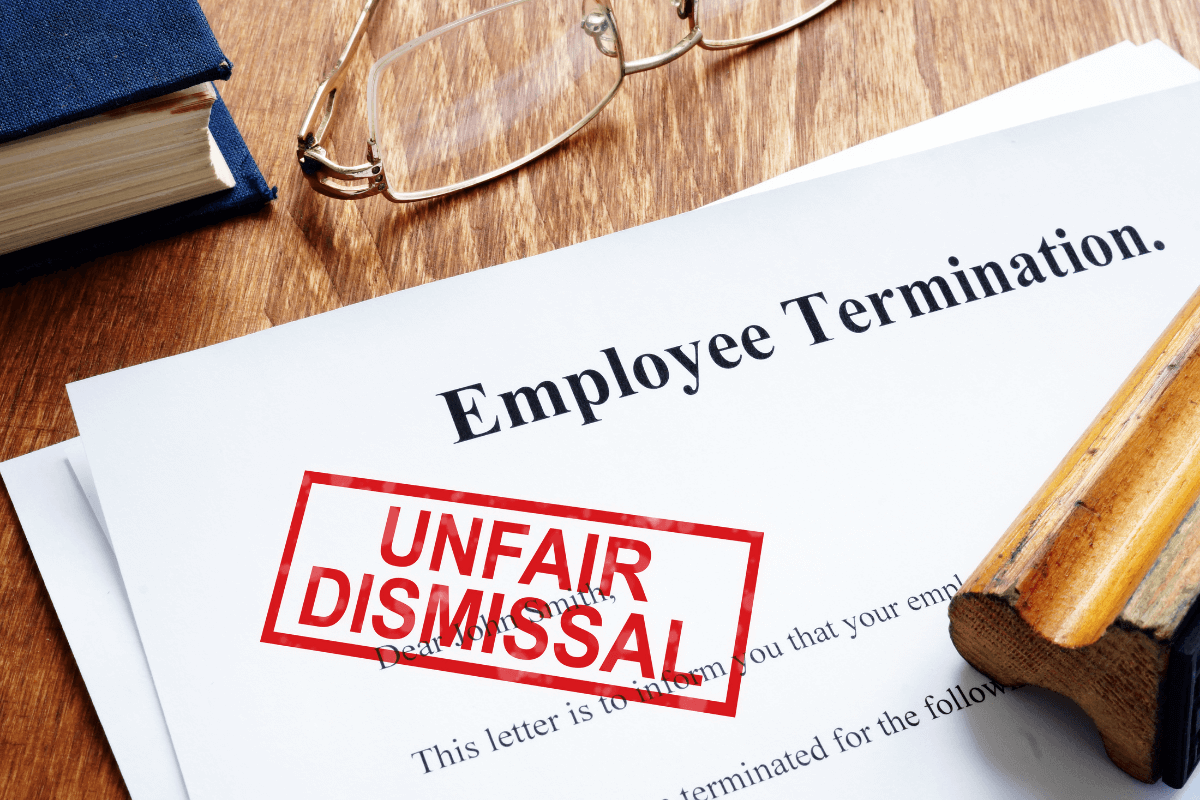 Wrongful Termination in Los Angeles Based on Unfair Workplace Practices
Your Los Angeles employer may have acted illegally in firing you if they either acted in bad faith or breached their legal duty as an employer in California. Some of the common examples of unfair workplace practices that may lead to wrongful termination claims in Los Angeles are:
Your employer intentionally misled you about the chances of appraisal, promotion, etc.
Your employer laid you off to hire someone younger who can work at a lesser salary
Your employer did not directly dismiss you from the job but transferred you to an unfavorable location with the intention of making it difficult for you to continue working so that don't get any severance pay or similar benefits
Your employer takes adverse action against you to keep you from collecting incentives or other benefits that are due to you
Did Your Employer Violate Public Policy? Contact Los Angeles Wrongful Termination Attorneys to Know if You Have a Case
Employers in Los Angeles cannot violate public policy while dismissing an employee. If you have been fired for the following reasons, you should immediately contact trusted and experienced Los Angeles wrongful termination attorneys at Miracle Mile Law:
Fired for serving on a jury
Fired for taking time off to serve in the National Guard or the military
Fired for not coming to office on a day you went out to cast your vote
Fired for reporting a violation of California or federal medical or family leave to the Labor Commissioner
Fired in retaliation for testifying as a witness in a court
Fired for reporting sexual harassment in the workplace
Fired for reporting an employer's refusal to pay minimum wage, overtime pay, or other employee benefits
Fired for reporting unsafe working conditions to the OSHA (Occupational Safety & Health Administration)
A wrongful termination in Los Angeles that violates public policy occurs when your employer terminates you for:
Fulfilling an obligation that might affect the public at large (e.g. reporting illegal activity in the workplace)
Exercising a legal right (e.g. taking time off to vote)
Thus performing a legal obligation, refusing to violate the law, exercising a legal privilege or right, and reporting a potential violation of federal or state law cannot be the ground for dismissal from the job. It is unlawful.
If you have reasons to believe that your employer has violated a public policy while terminating your employment, our Los Angeles wrongful termination attorneys may be able to help you with your wrongful termination lawsuit.
Legal Counsel for Those Wrongfully Terminated for Discrimination
When employers in Los Angeles fire at-will employees based on discrimination, the victims can pursue wrongful termination lawsuits. If you think you were fired because of your gender, religion, age, or any other protected characteristic, make sure that you speak with experienced LA wrongful termination attorneys at Miracle Mile Law Group immediately.
In Los Angeles, it is unlawful to dismiss employees based on:
Gender identity
Gender expression
Religion
Age
National origin
Race
Color
Marital status
Pregnancy, childbirth, breastfeeding, and associated medical conditions
Disability
Retaliation happens to be one of the leading causes of wrongful termination claims in Los Angeles. Discrimination on the basis of race, disability, sex, age, national origin, religion, and color are also among the leading causes of wrongful termination lawsuits.
What Type of Compensation Can You Get for Wrongful Termination in Los Angeles?
If your case is successful in the court of law, the employer may have to compensate you for lost wages, lost benefits (e.g. medical & dental insurance, retirement benefits, pension benefits, etc.), damages for pain & suffering (which can be verified by a qualified mental health professional), punitive damages, and legal fees. Punitive damages are typically awarded by the court in the severest of wrongful termination cases to not only punish the employer on the wrong side of the law but also deter similar unlawful actions in the future. The final compensation varies as per the situation and the merits of the case.
Your Trusted Los Angeles Wrongful Termination Attorneys
Do you have questions about wrongful termination in Los Angeles? You can discuss your case confidentially with our skilled Los Angeles wrongful termination lawyers right away.
Wrongful termination claims in Los Angeles are typically filed under the Federal Civil Rights Act of 1964 or California's Fair Employment & Housing Act (FEHA). In case the claim has to be filed with the EEOC first, it has to be done within 300 days of termination from the job.
When you are unlawfully fired from your job, or face discriminatory behavior or harassment leading up to job loss, it is important that you do not sit back and move on with your life. If you don't act now, someone else will be treated the same way as you were in the future.
We are available 24/7 to help you with your wrongful termination case as soon as possible. Our Los Angeles wrongful termination lawyers will work to uphold your legal rights and assist you in securing the maximum possible compensation.