Orange County Wrongful Termination Attorneys
This is personal for us. We know the difference between right and wrong and have based our entire careers on reminding others of that distinction.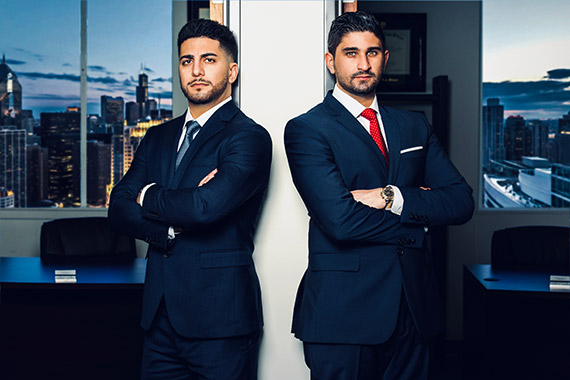 Strong Representation for Wrongfully Terminated Orange County Employees
Miracle Mile Law Group is a Team of Experienced Orange County Wrongful Termination Attorneys. Call Our Employment Attorneys Representing All Orange County Employees in All Industries.
Are you searching for an employment law firm to represent you as your Orange County Wrongful Termination Attorney? We welcome you to Miracle Mile Law Group. A full-service employment law firm representing only employees throughout the state, including employees in Orange County. If you have been wrongfully terminated from your job in Orange County, you may be able to obtain compensation in terms of damages. Under the law, you have rights that can be enforced by the courts. If you are facing such a challenging situation and require speaking to an experienced law firm that gets provide a free and confidential consultation, it is imperative that you contact an experienced Orange County wrongful termination lawyer who will remain on your side, who can fight for your rights and help you seek the fair compensation you deserve.
Schedule your complimentary and confidential initial consultation with our employment law firm by calling (888) 244-0706 today.
We understand finding a good job in Orange County isn't easy. There's a lot of competition. Many jobs in Orange County require technical skills or trade skills. Employees who are hired have the right to expect that they will be judged on their work performance and not how they look. Orange County workers have the right to assert their own legal rights and to speak out on behalf of other workers. Workers with written contracts can only be fired in accordance with the terms of their contract. At-will workers who can generally be fired for any reason – should know there are limitations. Federal and California employment laws protect employees from termination based on discrimination or other unconscionable reasons.
At Miracle Mile Law Group, our experienced Orange County wrongful termination attorneys understand the laws that protect workers from being fired. We assert your rights before the appropriate federal and state agencies – such as the California Department of Fair Employment and Housing. Our attorneys file claims in federal and state court in addition to filing agency claims. We demand reinstatement and lost benefits when the laws are on your side.
What wrongful termination laws protect employees in Orange County from discrimination?
The federal laws that protect Orange County employees from wrongful termination include:
Title VII is enforced by the Equal Employment Opportunity Commission. The EECO has expanded the scope of the law to include wrongful termination based on transgender status or gender identification. The laws apply to employers who meet one of the following definitions – "one or more individuals, governments, governmental agencies, political subdivisions, labor unions, partnerships, associations, corporations, legal representatives, mutual companies, joint-­stock companies, trusts, unincorporated organizations, trustees, and other entities."
The Americans with Disability Act (ADA) protects Orange County employees from firing based on their disability
The Age Discrimination in Employment Act (ADEA) protects Orange County employees from wrongful termination if they are over 40.
Laws such as the False Claims Act protect workers who file whistleblower claims against their Orange County employer for fraud
The California Department of Fair Employment and Housing enforces laws that protect workers from wrongful termination based on a variety of identity factors such as your ancestry, race, color, disability, genetic information, marital status, military status, national origin, religion, sex/gender, and sexual orientation.
Our skilled Orange County wrongful termination attorneys explain what laws protect you. Our law firm is set up to help you obtain the records and evidence you need to prove your wrongful termination case against your Orange County employer. Our firm is ready to be persuasive and argue your case before agencies and judges.
Can an Orange County employer terminate you for asserting your rights?
Employees should have the freedom to assert their legal rights. Federal and state laws provide protections for certain specific rights. Courts may protect your ability to assert your rights based on public policy – if there isn't a specific federal or state law. Our Orange County wrongful termination attorneys understand which laws apply. We represent employees who assert their right to:
File or testify in an employment discrimination case
File or testify in a sexual harassment or sexual abuse case
File a claim for benefits under the federal or state family leave acts
File a whistleblower claim to disclose fraud involving government contracts, taxes, or other revenue matters.
File a workers compensation claim
Serve on a jury if called
Vote at your local voting place
Many other employee rights which our wrongful termination lawyers can assert
What damages can you claim in an Orange County employment discrimination case – without a written contract?
By hiring our employment law firm to handle your case, our Orange County wrongful termination lawyers demand that employees:
Be reinstated to their prior job
Be compensated for any lost income or benefits
Have the same seniority or comparable benefits – as if they were never discharged
Statutory damages – fines authorized by any laws
Be Entitled to Legal fees
What are your rights if an Orange County employer fires you – even though you have a written contract?
In contract cases, the specific terms of the contract control – unless the terms are considered unconscionable or violate any federal or state laws. In most cases, the contract is in writing. Often Orange County employers have written contracts for employees who are hired for management positions, workers with unique skills such as technical or financial skills, or workers who are good at generating business. In some cases, the contract may be implied – such as when a worker leaves a good-paying job from another state in order to move to Orange County. California may interpret the move as an implied contract that the worker wouldn't be fired unless there was a good cause. The cause is generally not required in work relationships that do not have a contract.
A contract may be a private agreement between the Orange County employer and one employee. Collective bargaining agreements are contracts on behalf of multiple workers. Normally, written employment contracts require that an employee can't be fired unless he/she:
Fails to meet specific performance goals and standards
Works for a competitor
Commits acts of fraud or other types of dishonest behavior
Engages in sexual harassment or sexual abuse
Violates other conditions set forth in the contract
How Our Orange County Wrongful Termination Attorneys Fight For Your Case
If an Orange County employer does not have proper grounds to terminate an employee who has a written contract or is covered by a collective bargain agreement, we demand that  you:
Be reinstated to the job they had before being fired.
Be paid all the back pay that is due
Be compensated for all the back benefits that are due such as accumulated vacation and sick time, retirement benefits, and health insurance coverage
Be paid any damages set forth in the contract
Receive any damages authorized by federal or state law if the wrongful termination violated a law
Be paid your lawyer fees
Receive interest
You worked hard to get your job. Your Orange County employer should be held accountable if the employer discriminates, retaliates against you for asserting your rights, or fires you in violation of your contract or collective bargaining agreement. Assert your employment rights now by calling Miracle Mile Law Group today. You can reach us at (888) 244-0706 or contact us online for a FREE case evaluation.