Los Angeles Sexual Harassment Attorney
This is personal for us. We know the difference between right and wrong and have based our entire careers on reminding others of that distinction.
Top-Rated Los Angeles Sexual Harassment Attorneys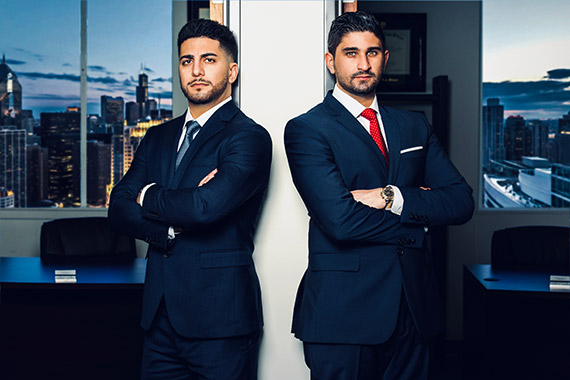 What is Sexual Harassment?
The Equal Employment Opportunity Commission defines sexual harassment as unwelcome sexual advances, sexual favors, and other verbal or physical conduct of a sexual nature.
An individual can face two types of sexual harassment claims: quid pro quo sexual harassment and hostile work environment. Quid pro quo sexual harassment occurs when employment decisions are based on an individual's willingness to submit to the sexual harassment. A hostile work environment occurs when sexual harassment makes an individual's workplace intimidating and/or hostile.
How Do I Know If I Am Being Exposed to Sexual Harassment?
Sexual Harassment can occur in many places in society, yet with regards to Employment Law, the following information pertains to the working environment. Many individuals can be involved: Private employers, state and local governments, employment agencies, labor organizations, and labor-management committees. Additionally, individuals can face sexual harassment in various ways. The list below demonstrates several cases of discrimination an individual can face.
Submission to such sexual conduct is explicitly or implicitly a term or condition of employment.
Rejection of sexual conduct by a supervisor becomes the basis for employment decisions.
The conduct has the purpose or effect of unreasonably interfering with an employee's work performance.
The conduct creates an intimidating, hostile, or working environment.
How Do I Prove Sexual Harassment?
There are two types of evidence that protect the rights of individuals with protected characteristics: direct evidence and circumstantial evidence.
Firstly, direct evidence are statements made by managers or supervisors that directly relate to the adverse action against an individual because of his or her protected characteristic, such as their sex.
Secondly, circumstantial evidence, also known as indirect evidence, requires more steps to prove discrimination.
In either case, the employee must meet the following requirements:
Are you a member of a protected class (sex is a protected characteristic)?
Are you qualified for your position?
Has an adverse action been taken against you?
Was the replacement from the same protected place?
Second, your Los Angeles Sexual Harassment will probably ask the following questions:
Were you treated differently someone with the same experience, qualifications, and or education who is not in your protected class?
Did the employer make rude or derogatory comments?
Are the circumstances of your treatment so unusual, shocking, unjust, or severe as to suggest discrimination?
Does your employer have a history of showing bias toward persons in your protected class?
Are there noticeably few employees of your protected class at your workplace?
Have you heard other employees in your protected class seem to be singled out for adverse treatment?
Have you heard other employees in your protected class complain about discrimination?
Are there statistics that show favoritism towards or bias against any group?
Did your employer violate well-established company policy in the way it treated you?
Did your employer retain less qualified, non-protected employees in the same job?
Get in Touch With the Sexual Harassment Attorneys at Miracle Mile Law Group
The Los Angeles employment attorneys at Miracle Mile Law Group are dedicated to upholding and aiding the workplace rights of employees who have been wrongfully terminated, discriminated, sexually harassed, or retaliated against for illegal reasons.
Our Los Angeles employment law firm recognizes that the needs of each worker is unique, and we take great satisfaction in offering specialized care in employment disputes including disability discrimination, pregnancy discrimination, whistleblower retaliation, wage and hour disputes, and many more.
Unlike other employment law firms, we have each matter cautiously assessed by our crew of qualified lawyers and we designate a group of experts to the matter. When you choose us, you can be confident that:
You will instantly speak to a California employment attorney for your case
You will receive a 100% free conference regarding your employment dispute from an actual Los Angeles employment lawyer
You will receive the maximized amount of settlements from your case, including compensation for distress, lost wages and earning capacity, and even punitive damages for egregious behavior
100% – ABSOLUTELY NO OUT OF POCKET EXPENSES
Give us a call at (888) 244-0706 or fill out the form by clicking here for a free consultation!