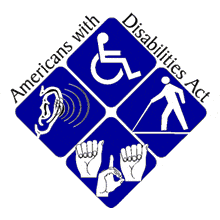 Americans with Disabilities Act – ADA Lawyer
Top Americans with Disabilities Act – ADA Lawyer
The Americans with Disabilities Act (ADA) was enacted in 1990 with the purpose of prohibiting discrimination based on disability. The ADA is similar to the Civil Rights Act of 1964 where discrimination based on age, disability, race, and other protected characteristics were outlawed. The key difference, however, is that the ADA provides that covered employers must provide reasonable accommodations to employees with disabilities. Further, the ADA provides that public places must have easily and accessible entrances and exits for disabled persons. It is important to have a Americans with Disabilities Act – ADA Lawyer on your side to help prove your case.
History of the ADA
"Let the shameful walls of exclusion finally come tumbling down" – President George BusH
Passed in 1990, the ADA provided the first and most comprehensive set of protections for disabled individuals. Supporters argued that the disabled population represented a large portion of underrepresented and disadvantaged talent. However, it took the Equal Employment Opportunity Commission (EEOC) about two years after the passing of the act to amend regulations and bylaws to reflect the needs of the disabled population.
The purpose of the act was twofold. First, the act was designed to prevent the abuse of neglect to disabled persons. Secondly, the act was set out to promote productivity amongst the sector of society that had constantly been isolated and neglected.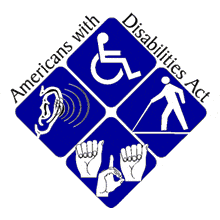 What Protections Does the Americans with Disabilities Act Provide?

The act provides 1) nondiscrimination on the basis of disability in employment and 2) nondiscrimination on the basis of disability in public accommodations and commercial facilities. Keep in mind, the ADA provides similar protections to the Fair Employment and Housing Act (FEHA) of California. However, FEHA is stronger in its protections for California employees.
Covered Disabilities:In order to be covered by the ADA, you must have a covered disability. A covered disability is one that substantially limits a major life activity. Without a doubt, employment is a major life activity. If an employee has a covered disability, then he or she must be able to fulfill the essential functions of their job with or without reasonable accommodations. An Americans with Disabilities Act – ADA Lawyer will help prove you are covered under the law.
Covered Employers: to be covered by the ADA, the employer you work for must have 15 employees or more
Reasonable Accommodations: Once it is established that an employee can perform his or her essential functions of the job, the employer must make an attempt to provide reasonable accommodations. Your employer is not required to give you any accommodations you ask for. The requirement is that your employer must give you these reasonable accommodations unless it creates an undue financial burden to the employer, or it creates a safety risk to you or other employees. But how do you know what is reasonable? This is where the "interactive process" comes in.
The Interactive Process:this process is essentially an information-sharing procedure between the employee and the employer. The purpose of the interactive process is to figure out how to come to a common ground with respect to accommodations. There is no formal procedure for the interactive process. Often times, the interactive process involves sharing medical reports and restrictions prescribed by doctors to human resources or other supervisors.
Providing Medical Documentation
Further, your employer may ask for medical information if your disability was not known or was not obvious. Be frank with your employer. Provide the requested documentation. After submitting the information, your employer may follow up and ask for supplemental information. As long as the request is reasonable, you may be required to provide it in order to get the accommodations you seek.
Confidentiality
Your employer is not allowed to share information about disability to other coworkers. You have a reasonable expectation of privacy in your medical documentation. However, your supervisors may be informed about your disability in attempt to accommodate your restrictions. However, your employer and/or supervisors may be required to keep your disability documentation separate from the rest of work documents.
Wrongful Termination and ADA Violations
California, along with many other states, is an at-will employment state. This means that your boss can fire you for almost any reason. But they cannot fire you because of your disability. If they do, you may have a claim for wrongful termination.
There is a strong presumption of discrimination if you were terminated, demoted, or discriminated:
While you were on a leave for a disability
Immediately after asking for an accommodation
Shortly after being diagnosed with a disability
After complaining about someone harassing you because of your disability
Subsequent to rejecting an accommodation
After being subject to offensive words or comments
Harassment and the Americans with Disabilities Act
Often times, employers get frustrated about the fact that they have to comply with the law to provide reasonable accommodations. This can lead to harassment. This can come in many forms. Commonly, it includes belittling an employee for having a disability or make the employee feel less worthy. The law provides that you cannot be harassed by co-workers, supervisors, or customers in relation to your disability.
What Should I Do?
Do not let your employer treat you unfairly because of your disability. Call the Miracle Mile Law Group if you have suffered from disability discrimination in the workplace. Attorneys are standing by to listen to your story.