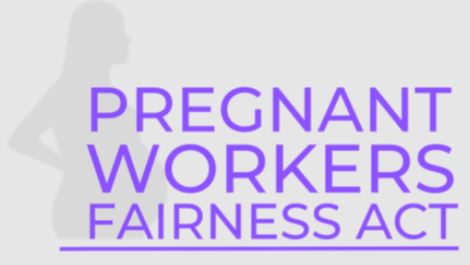 The Pregnant Workers Fairness Act (PWFA)
The Pregnant Workers Fairness Act is a bill that was approved by the US House of Representatives in 2021. The bill, according to the House of Representatives records, was approved by the Senate Health, Education, Labor, and Pensions Committee by a vote of 19-2. No further votes have been taken on the legislation.
A summary of the Pregnant Workers Fairness Act
The bill, according to the US House of Representatives, "prohibits employment practices that discriminate against making reasonable accommodations for qualified employees affected by pregnancy, childbirth, or related medical conditions." Qualified employees are defined as employees or job applicants who can meet the essential job requirements, with or without reasonable accommodation – with specified exceptions.
The bill makes it an illegal employment practice to:
Fail to make reasonable accommodations to known limitations of such employees unless the accommodation would impose an undue hardship on an entity's business operation.
Require a qualified employee affected by such condition to accept an accommodation other than any reasonable accommodation.
Deny employment opportunities based on the need of the entity to make such reasonable accommodations to a qualified employee.
Require such employees to take paid or unpaid leave if another reasonable accommodation can be provided.
Employers also cannot take negative actions regarding the conditions, terms, and privileges of employment -against a qualified employee requesting or using such reasonable accommodations. The Pregnant Workers Fairness Act includes enforcement procedures and remedies regarding any covered unlawful employment practices. The bill also requires that the Equal Employment Opportunity Commission (EEOC) "must provide examples of reasonable accommodations that shall be provided to affected employees unless the employer can demonstrate that doing so would impose an undue hardship." The bill also precludes "state immunity under the Eleventh Amendment to the Constitution from an action for a violation of this bill."
The basis for the Pregnant Workers Fairness Act
The bill was drafted because many pregnant workers face discrimination in the workplace in every industry, across ethnicity and race – and in every state. Many pregnant workers are forced to lose their jobs when simple accommodations such as being allowed to sit instead of stand would allow them to work and support their families including their newborns.
The Pregnant Workers Fairness Act would:
"Clarify that employers must make reasonable accommodations for workers affected by a known limitation related to pregnancy, childbirth or related medical conditions."
Require that employers and pregnant workers work together to find an appropriate reasonable accommodations, similar to the Americans with Disabilities Act.
Allow for an exemption for businesses when an accommodation imposes an undue hardship on an employer.
Protect pregnant workers from certain adverse employment actions such as retaliation, coercion, intimidation, threats or interference – if the pregnant workers asks for a reasonable accommodation.
The Act would apply to employers with 15 or more employees. The law will provide protections for both job applicants and employees.
Current pregnancy discrimination laws
The Pregnancy Discrimination Act of 1978 (PDA) does outlaw discrimination based on pregnancy, childbirth, or other medical conditions. The PDA provides that workers who are pregnant have the right to the same treatment and the same benefits as workers who are not pregnant – provided the workers have the same ability/inability to work. Despite the PDA, according to the National Partnership for Women and Families, almost 31,000 pregnancy discrimination lawsuits (between October 2021 and September 2015) were filed with the Equal Employment Opportunity Commission (EEOC) and state-level fair employment practice agencies.
About 650 of the cases filed in just 2015 alone involved pregnant women who claimed that they were treated adversely because they couldn't sit, needed to carry a water bottle, would benefit from restrictions about the weights they could lift, and needed more frequent restroom breaks. A study in 2013 estimated that nearly 250,000 women each year are denied the reasonable job accommodations they requested and needed – and that more pregnant women who could benefit from better accommodations failed to ask for those accommodations.
The US Supreme Court did hold in 2015, in Young v. United Parcel Service that failing to accommodate pregnant workers with medical needs can violate the PDA. The Supreme Court case does have limitations though. The outcome of your case will likely "depend on whether an employer already accommodates a large percentage of nonpregnant workers while denying accommodations to a large percentage of pregnant workers. This means many pregnant workers still won't qualify for the help they need to keep their jobs.
Why the new Pregnant Workers Fairness Act is needed
Discrimination based on pregnancy disproportionately affects women of color and immigrants – in part, because they are more likely to have physically demanding jobs such as food service workers, home health aides, package handlers, and cleaning jobs.
"Black women are also at a higher risk for pregnancy-related complications like pre-term labor, preeclampsia and hypertensive disorders, and the mortality rate for Black infants in the United States is shockingly high." In addition to wage loss, the loss of health benefits can be traumatic for pregnant women.
Often the accommodations needed to help pregnant women do their jobs are minor such as the use of water bottles to stay hydrated and prevent bladder infections or being allowed to work shifts of no more than 8 hours or that don't require lifting more than 20 pounds – due to gestational diabetes and the threat of preterm labor.
"More than 85 percent of women will become mothers at some point in their working lives. Pregnant women who continue working are generating income for their families while gaining seniority on the job." If a pregnant woman is fired, at precisely the time they need an income, obtaining new employment can be especially difficult. New mothers face their own set of biases when looking for a job.
95 percent of voters support requiring that employers provide minor accommodations so a pregnant woman can keep her job. 31 states, including California, already have laws that require employers to provide reasonable accommodations. Support for a law like the Pregnant Workers Fairness Act is nearly universal.
What is California's law on pregnancy and work accommodation requests?
California's law also protects employees from employer retaliation when workers assert their rights. The California law applies to employers with 5 or more employees – regardless of worker tenure and the number of hours worked.
If you are pregnant and have questions about applying for a job, keeping your job, or employer retaliation regarding accommodations – call Miracle Mile Law Group today. You can reach us at (888) 244-0706 or contact us for a FREE consultation about your potential case.